IBM Boosts ESPN Fantasy Football Experience With Watsonx.ai
9:36 am ET September 14, 2023 (Zacks) Print
International Business Machines Corporation IBM partnered with ESPN to introduce new features in the ESPN Fantasy Football app, powered by IBM watsonx.ai. IBM watsonx offers a unified platform that enables AI developers to train, fine-tune and tailor AI models per business-specific requirements. Leveraging the right AI will enable ESPN to transform structured and unstructured football data into valuable insights. This will empower fantasy team owners to make more informed decisions when they set up their match-day lineups.

Fantasy app uses a feature called 'waiver wire,' a system used to manage player rosters and transactions. The waiver wire feature enables fantasy team managers to acquire players who were released by other teams or not initially drafted. At the end of every week, managers often choose to reevaluate and shuffle their squad for the upcoming match. The players released from the team during this process become available on the waiver wire.

When several requests are submitted to acquire the same player, determining who ultimately gets the player can be complicated. Waiver Wire simplifies this whole procedure by adding an element of fairness and strategy to player acquisitions during the season.

New features incorporated in the app, namely, Waiver Grades will give personalized grades to each available player in the waiver by evaluating the benefits they can bring to a specific team. This allows fantasy managers to assess the potential player's grade in comparison to the average grade of players who are already on their squad for the same position.

Additionally, the Trade Grades feature provides a personalized evaluation of the trade. The advanced AI capabilities utilized in conjunction with machine learning models effectively analyze each player's performance every week and offer unbiased insights. The AI-generated classifications allow fantasy managers to better evaluate players' worth and make smarter decisions.

By introducing these enticing features leveraging IBM's advanced AI, ESPN is aiming to improve the digital experience of 11 million fantasy football users. The successful integration of IBM AI will demonstrate the versatility of IBM's watsonx.ai and its applicability across various sectors. This will further augment IBM's leadership position in the sphere of artificial intelligence and expand its commercial horizon.

IBM is betting big on the watsonx platform, which is likely to be the core technology platform for its AI capabilities. This enterprise-ready AI and data platform comprises three products to help organizations accelerate and scale AI, namely, the watsonx.ai studio for new foundation models, generative AI and machine learning; the watsonx.data fit-for-purpose data store, built on an open lake house architecture; and the watsonx.governance toolkit to help enable AI workflows to be built with responsibility and transparency.

IBM is poised to benefit from strong demand for hybrid cloud and AI, driving growth in Software and Consulting. The company's growth is expected to be driven primarily by analytics, cloud computing and security in the long haul. A combination of a better business mix, improving operating leverage through productivity gains and increased investment in growth opportunities will likely drive profitability.

The stock has gained 16.8% over the past year compared with the industry's rise of 10.6%.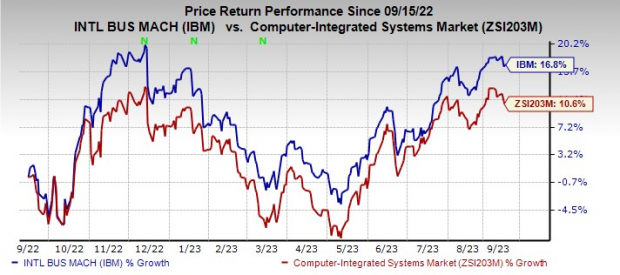 Image Source: Zacks Investment Research
IBM currently carries a Zacks Rank #3 (Hold).
Stocks to Consider
Motorola Solutions, Inc. MSI, carrying a Zacks Rank #2 (Buy) at present, delivered an earnings surprise of 5.62%, on average, in the trailing four quarters. In the last reported quarter, it pulled off an earnings surprise of 5.58%. You can see the complete list of today's Zacks #1 Rank (Strong Buy) stocks here.

It provides services and solutions to government segments and public safety programs, along with large enterprises and wireless infrastructure service providers. It develops and services both analog and digital two-way radio, voice and data communications products and systems for private networks, wireless broadband systems and end-to-end enterprise mobility solutions to a wide range of enterprise markets.

Splunk Inc. SPLK, sporting a Zacks Rank #1, delivered an earnings surprise of 154.90%, on average, in the trailing four quarters. In the last reported quarter, it delivered an earnings surprise of 69.05%.

Splunk provides software solutions that enable enterprises to gain real-time operational intelligence by harnessing the value of their data. The company's offerings enable users to investigate, monitor, analyze and act on machine data and big data, irrespective of format or source and help in operational decision-making.

NVIDIA Corporation NVDA, currently sporting a Zacks Rank #1, delivered an earnings surprise of 9.79%, on average, in the trailing four quarters. In the last reported quarter, it pulled off an earnings surprise of 29.19%.

NVIDIA is the worldwide leader in visual computing technologies and the inventor of the graphic processing unit or GPU. Over the years, the company's focus has evolved from PC graphics to artificial intelligence-based solutions that now support high-performance gaming, computing and virtual reality platforms.
Want the latest recommendations from Zacks Investment Research? Today, you can download 7 Best Stocks for the Next 30 Days. Click to get this free report
International Business Machines Corporation (IBM): Free Stock Analysis Report
NVIDIA Corporation (NVDA): Free Stock Analysis Report
Motorola Solutions, Inc. (MSI): Free Stock Analysis Report
Splunk Inc. (SPLK): Free Stock Analysis Report
To read this article on Zacks.com click here.