Nokia (NOK) Upgrades Digital Learning Network in South Korea
10:49 am ET September 15, 2023 (Zacks) Print
Nokia Corporation NOK recently revealed that it has deployed its Optical LAN solution in 100 schools across the Gyeonggi-do region in South Korea to upgrade network infrastructure and enhance the digital learning experience. The upgrade allows institutions to conduct classes leveraging augmented reality and virtual reality, offering an immersive learning experience to students. Notably, the network enhancements can achieve an impressive 10G capability without the need to install additional cable. The greater scalability of the infrastructure enables rapid expansion of the capacity with relatively lower expenses.

The Finnish telecom enterprise has accomplished the deployment in association with its distribution partner network of Dongkuk Systems and Erum I&C. While Dongkuk has ensured a stable supply chain for efficient execution of the project, Erum I&C specializes in school networks, ensuring smooth product delivery, network design, deployment and system maintenance.

The initiative is part of the Korea Ministry of Education's Green Smart School program. This program aims to create a smart learning environment and plans to expand it nationwide after the successful installation in the Gyeonggi-do region.

Efficient digital learning infrastructure is becoming increasingly important in the education sector as it brings greater accessibility, flexibility and personalization. It promotes inclusivity per diverse learning requirements and facilitates remote collaboration between teachers and students, even during catastrophic events such as pandemic.

Institutes are looking for a solution that will provide large-capacity transmission and ensure seamless cooperation between various teams to efficiently execute research work and daily learning activities. Nokia's Optical LAN solution perfectly fits the bill with its ease of operations.

Nokia is providing a suite of technology, including Passive Optical LAN, Optical Line Terminal and Optical Network Terminal to significantly boost network performance, making it easier to conduct multimedia classes with large capacity requirements. The solution minimizes equipment and cabling-related expenses, optimizes power consumption and also allows customization of the solution for the specific networking needs of each school.

Over the past few quarters, Nokia is witnessing soft demand trends in the Asia Pacific region. The successful completion of the project will likely solidify its presence and foster business expansion in the region, potentially bolstering its revenues.

Nokia is driving the transition of global enterprises into smart virtual networks by creating a single network for all services, converging mobile and fixed broadband, IP routing and optical networks with the software and services to manage them. Leveraging state-of-the-art technology, it is transforming the way people and things communicate and connect with each other. These include a seamless transition to 5G technology, ultra-broadband access, IP and Software Defined Networking, cloud applications and Internet of Things.

Given the strength of its end-to-end portfolio, Nokia is well-positioned for the ongoing technology cycle. The company's deal win rate is encouraging, with notable successes in key 5G markets. Its installed base of high-capacity AirScale products, which enable customers to quickly upgrade to 5G, is growing rapidly.

The stock has declined 17.5% in the past year compared with the industry's fall of 10.6%.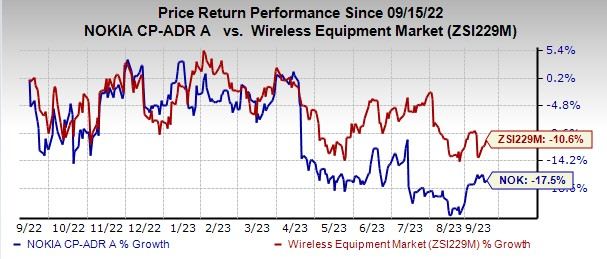 Image Source: Zacks Investment Research
Nokia currently has a Zacks Rank #3 (Hold).
Stocks to Consider
Motorola Solutions, Inc. MSI, carrying a Zacks Rank #2 (Buy) at present, delivered an earnings surprise of 5.62%, on average, in the trailing four quarters. In the last reported quarter, it pulled off an earnings surprise of 5.58%. You can see the complete list of today's Zacks #1 Rank (Strong Buy) stocks here.

It provides services and solutions to government segments and public safety programs, along with large enterprises and wireless infrastructure service providers. It develops and services both analog and digital two-way radio, voice and data communications products and systems for private networks, wireless broadband systems and end-to-end enterprise mobility solutions to a wide range of enterprise markets.

Splunk Inc. SPLK, sporting a Zacks Rank #1, delivered an earnings surprise of 154.90%, on average, in the trailing four quarters. In the last reported quarter, it delivered an earnings surprise of 69.05%.

Splunk provides software solutions that enable enterprises to gain real-time operational intelligence by harnessing the value of their data. The company's offerings enable users to investigate, monitor, analyze and act on machine data and big data, irrespective of format or source and help in operational decision-making.

NVIDIA Corporation NVDA, currently sporting a Zacks Rank #1, delivered an earnings surprise of 9.79%, on average, in the trailing four quarters. In the last reported quarter, it pulled off an earnings surprise of 29.19%.

NVIDIA is the worldwide leader in visual computing technologies and the inventor of the graphic processing unit or GPU. Over the years, the company's focus has evolved from PC graphics to artificial intelligence-based solutions that now support high-performance gaming, computing and virtual reality platforms.
Want the latest recommendations from Zacks Investment Research? Today, you can download 7 Best Stocks for the Next 30 Days. Click to get this free report
Nokia Corporation (NOK): Free Stock Analysis Report
NVIDIA Corporation (NVDA): Free Stock Analysis Report
Motorola Solutions, Inc. (MSI): Free Stock Analysis Report
Splunk Inc. (SPLK): Free Stock Analysis Report
To read this article on Zacks.com click here.