Canadian Solar (CSIQ) Arm Secures $112M Fund for 160MW Project
7:12 am ET September 1, 2023 (Zacks) Print
Canadian Solar Inc.'s CSIQ subsidiary, Recurrent Energy, recently received project financing worth $112 million for its 160 megawatts (MW) North Fork Solar project. The solar plant, situated 100 miles southwest of Oklahoma City, is projected to start operation in 2024.

Recurrent Energy has signed a 15-year power purchase agreement (PPA) with the Oklahoma Municipal Power Authority to supply 100% of the energy generated from the North Fork facility.
Canadian Solar's Prospects in the U.S. Solar Market
To bolster its footprint in the rapidly expanding U.S. solar market, Canadian Solar has been ramping up investment in its diverse project pipeline and expanding its manufacturing capacity.

As of Jun 30, 2023, in North America, Recurrent Energy had a 6,201 megawatt peak of advanced and early-stage pipeline projects. In June 2023, Canadian Solar announced that it is building its first manufacturing facility in the United States for producing solar photovoltaic modules (PV). The PV module facility, based in Mesquite, TX, boasts an investment of $250 million and has a manufacturing capacity of 5 gigawatts (GW) annually, which corresponds to nearly 20,000 high-power modules per day. The latest North Fork solar facility, on being operational, will produce clean electricity to power 35,000 homes.

Such investment strategies and development plans adopted by Canadian Solar seem to be prudent, with the company aiming at tapping the benefits of the growing solar industry.

Notably, per the Solar Energy Industries Association report, the U.S. solar industry is projected to triple in size over the next five years.
Peer Moves
Apart from Canadian Solar, other prominent players like SolarEdge SEDG, Enphase Energy ENPH and First Solar FSLR are also expanding their footprint in the U.S. solar market.

SolarEdge plans to establish manufacturing capabilities in the United States by using contract manufacturers and establishing its manufacturing facility. SEDG expects to ramp up the shipments of inverters from a contract manufacturer's U.S. manufacturing site toward the end of 2023.

SEDG's long-term (three- to five-year) earnings growth rate is 24.4%. The Zacks Consensus Estimate for 2023 sales implies a rise of 24.1% over 2022's reported figure.

Enphase Energy expects to ship approximately 600,000 microinverters to customers in third-quarter 2023 from its U.S. manufacturing facilities. In second-quarter 2023, the company shipped 50,000 microinverters from two of its contract manufacturers — Flex in South Carolina and Foxconn in Wisconsin.

ENPH's long-term earnings growth rate is 23.2%.The Zacks Consensus Estimate for its 2023 sales implies a rise of 17% over 2022's reported figure.

First Solar announced its fifth manufacturing capacity in Louisiana, which, together with other planned facilities, will assist the company in growing its manufacturing footprint to approximately 14 GW in the United States by 2026.

The Zacks Consensus Estimate for its 2023 sales implies a rise of 34.2% over 2022's reported figure. The Zacks Consensus Estimate for earnings has moved up 3.7% in the past 60 days.
Price Performance
In the past six months, shares of CSIQ have lost 31.5% compared with the industry's 29.7% decline.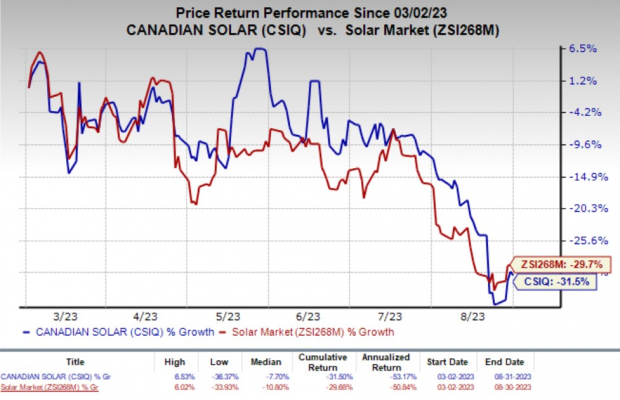 Image Source: Zacks Investment Research
Zacks Rank
Canadian Solar currently has a Zacks Rank #3 (Hold). You can see the complete list of today's Zacks #1 Rank (Strong Buy) stocks here.


Want the latest recommendations from Zacks Investment Research? Today, you can download 7 Best Stocks for the Next 30 Days. Click to get this free report
First Solar, Inc. (FSLR): Free Stock Analysis Report
Canadian Solar Inc. (CSIQ): Free Stock Analysis Report
Enphase Energy, Inc. (ENPH): Free Stock Analysis Report
SolarEdge Technologies, Inc. (SEDG): Free Stock Analysis Report
To read this article on Zacks.com click here.