Grayscale Decision is a Landmark Win for Crypto (4 Winners)
4:04 pm ET August 29, 2023 (Zacks) Print
Tuesday, crypto assets exploded to the upside after the US Court of Appeals for the DC Circuit issued its opinion in Grayscale Investments vs. SEC, ruling the agency was unreasonable to deny the crypto behemoth permission to launch a Bitcoin ETF.


Image Source: TradingView
Founded in 2013, Grayscale is a pioneer in providing the public access to crypto assets through untraditional means. The company is best known for its Grayscale Bitcoin Trust (GBTC) –the first publicly traded Bitcoin trust in the United States.
For a long time, GBTC has been fighting with the Securities and Exchange Commission (SEC) to convert from a trust into a Bitcoin ETF. A Bitcoin ETF holds distinct advantages, including:
· Accessibility: ETFs trade on well-known securities exchanges like the Nasdaq, offering a broader range of investors the opportunity to gain exposure to Bitcoin.
· Regulatory Transparency and Protection: Because ETFs are regulated more than trusts, it can allow investors to feel more at ease.
· Liquidity: ETFs can be bought and sold throughout the day and allow the shares to trade at or near its holdings' Net Asset Value (NAV).
Now that we understand the advantages of a Bitcoin ETF, let's discuss the biggest winners.
Bitcoin ETF Applicants: Though Grayscale is an obvious winner, the landmark court decision likely paves the way for other Bitcoin applicants like Fidelity, BlackRock (BLK), and ARK to market.
Coinbase (COIN): No other company stands to benefit as much as US crypto exchange giant Coinbase. Coinbase is listed as the custodian exchange in nearly every Bitcoin ETF application. Coin shares jumped 15% on Tuesday's news and regained the 50-day moving average on massive volume.


Image Source: TradingView
Commercial Bitcoin Miners: Publicly traded Bitcoin miners like Marathon Digital (MARA) and Bitfarms (BITF) saw some of the strongest accumulation on Tuesday.Further Bitcoin adoption means that any Bitcoin rewards from Bitcoin mining for validation by these companies are worth more.
Proxies: Software company MicroStrategy (MSTR) famously adopted the "Bitcoin Standard" years ago. In other words, any money the company makes from its software business floats on a Bitcoin "Sail." MSTR currently holds billions in Bitcoin.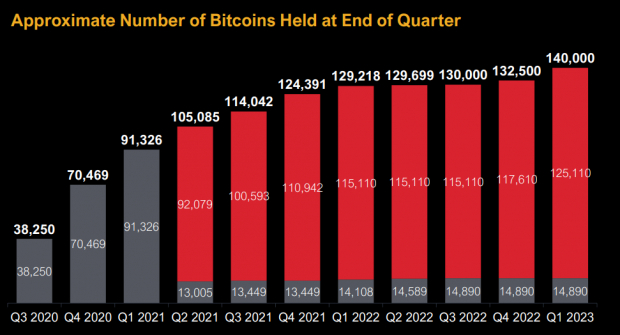 Image Source: MicroStrategy
Want the latest recommendations from Zacks Investment Research? Today, you can download 7 Best Stocks for the Next 30 Days. Click to get this free report
BlackRock, Inc. (BLK): Free Stock Analysis Report
MicroStrategy Incorporated (MSTR): Free Stock Analysis Report
Marathon Digital Holdings, Inc. (MARA): Free Stock Analysis Report
Grayscale Bitcoin Trust (GBTC): ETF Research Reports
Coinbase Global, Inc. (COIN): Free Stock Analysis Report
Bitfarms Ltd. (BITF): Free Stock Analysis Report
To read this article on Zacks.com click here.