Arm IPO: Should Investors Buy Into the Hype?
2:23 pm ET September 15, 2023 (Zacks) Print
Undoubtedly one of this week's biggest developments, chip designer Arm Holdings ARM debuted on the Nasdaq on Thursday. Shares had a strong showing, soaring more than 20% in yesterday's session, listed initially at $51 per share.
It's an exciting time for investors, especially following a barren 2022 landscape for IPOs. SoftBank, the controller of Arm Holdings (90% stake), took the company private back in 2016. But given the hype, what is there to know about the company? Let's take a closer look.
Arm Holdings Overview
Arm Holdings constructs, develops, and licenses high-performance, low-cost, energy-efficient IP solutions for CPUs, GPUs, NPUs, and other interconnected technologies.
The company's product portfolio is relied upon among many high-profile semiconductor companies and other original equipment manufacturers (OEMs). Breaking down the business in simpler terms, Arm licenses instruction sets for modern chips to partners who utilize it for their preferred applications.
Tech Heavyweights Are Interested
Many technology heavyweights, a list that includes Advanced Micro Devices AMD, Apple AAPL, Alphabet GOOGL, and NVIDIA NVDA, all expressed interest in ARM shares, further stating the excitement surrounding the IPO.
These heavyweights have led the market's rebound in 2023, as we can see below.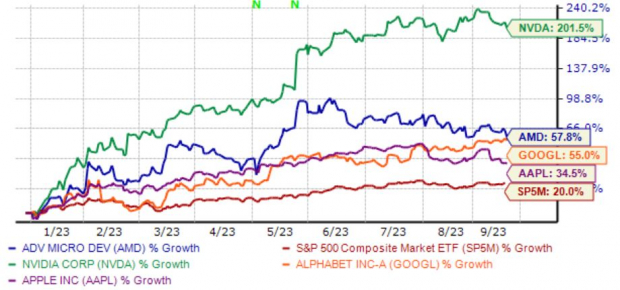 Image Source: Zacks Investment Research
Just in early September, Arm unveiled it struck a new long-term agreement with Apple extending beyond 2040, continuing an already long-standing relationship. Apple has and continues to use Arm architecture extensively within the iPhone, iPad, and Macs.
And in a recent SEC filing, Arm Holdings revealed that more than 260 companies reported shipping Arm-based chips in the fiscal year ended March 31st, 2023, a list that includes NVIDIA, Advanced Micro Devices, and Qualcomm QCOM.
We're all familiar with the AI hype surrounding NVIDIA in 2023, causing shares to soar. Interestingly, Arm Holdings is already working with NVIDIA to deploy technology to run AI workloads. Arm's CPUs presently run AI and ML (machine learning) workloads in billions of devices.
Analysts have become notably bullish on NVDA's outlook amid the artificial intelligence hype, helping land it into the highly-coveted Zacks Rank #1 (Strong Buy). As we can see below, the revisions trends have been potent across all timeframes, and analysts have been in full agreement.


Image Source: Zacks Investment Research
Bottom Line
With all of the attention surrounding Arm Holdings' ARM IPO, it's worthwhile to take a quick look under the hood of the company to understand the hype better.
And it's easier to understand the excitement when seeing which companies have also shown interest, a list that includes the likes of many investor-favorite technology heavyweights.
It's more than reasonable to assume the excitement surrounding shares will last some time, especially following Wall Street's obsession with its new shiny toy, artificial intelligence.
Want the latest recommendations from Zacks Investment Research? Today, you can download 7 Best Stocks for the Next 30 Days. Click to get this free report
QUALCOMM Incorporated (QCOM): Free Stock Analysis Report
Apple Inc. (AAPL): Free Stock Analysis Report
Advanced Micro Devices, Inc. (AMD): Free Stock Analysis Report
NVIDIA Corporation (NVDA): Free Stock Analysis Report
ARM Holdings PLC (ARM): Free Stock Analysis Report
Alphabet Inc. (GOOGL): Free Stock Analysis Report
To read this article on Zacks.com click here.