Stocks on the Mend: A Mean Reversion Duo
12:16 pm ET September 6, 2023 (Zacks) Print
September is starting in classic, historically weak form. However, in an earlier piece, I provided readers with three reasons why September may actually offer a bullish surprise for investors. Even with the somewhat weak start, investors must not get overly bearish without proof. For now, the Nasdaq 100 ETF (QQQ) is simply retesting its 50-day moving average and breakout zone from above.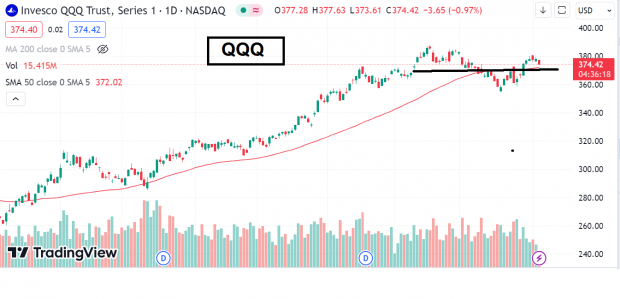 Image Source: TradingView
Below are two stocks with comeback potential, strong fundamental stories, and explosive technical setups:
Advanced Micro Devices (AMD)
AMD is the second strongest semiconductor maker behind Nvidia (NVDA), the market leader. However, the race for AI supremacy is sending demand to unfathomable levels, and NVDA will not be able to keep up fully for the foreseeable future. AMD has emerged as a strong challenger to Nvidia's graphic processing unit or GPU market dominance. Zacks Consensus Estimates suggest that by 2024, AMD will report record annual results, and in turn, AMD stock should follow with all-time highs.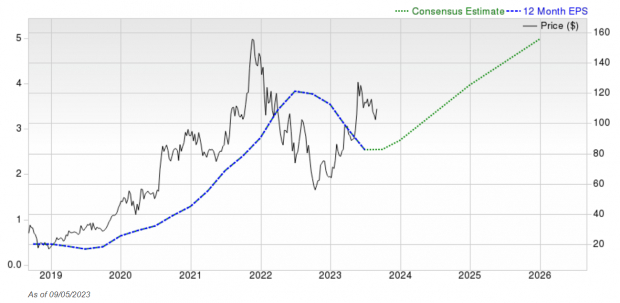 Image Source: Zacks Investment Research
Catch Up Candidate
Though it often makes sense to be invested in the industry leader, AMD is becoming more attractive from a valuation perspective and could play catch up. AMD has a P/E ratio of just 43x, much more reasonable than NVDA's 92.47x.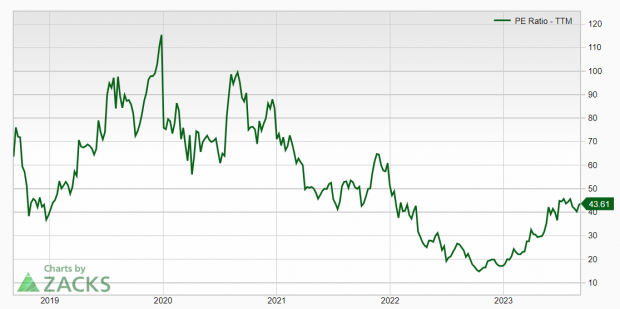 Image Source: Zacks Investment Research
Chart Pattern
AMD shares have exhibited relative strength recently and are looking to emerge from a bullish wedge pattern.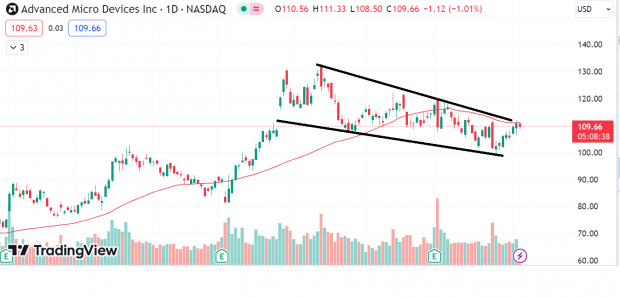 Image Source: TradingView
Novavax (NVAX)
Novavax is a biotech company that develops innovative vaccines to prevent serious infectious diseases. The company came to prominence when it was in the race with companies such as Johnson and Johnson (JNJ), Pfizer (PFE), and Moderna (MRNA) to get a COVID-19 vaccine approved. Unfortunately for NVAX, it took until July 13th, 2022 to receive emergency use authorization from the US FDA. However, recent reports show that COVID-19 numbers are on the rise again.
Reversion to the Mean Potential
If COVID-19 numbers continue to pick up and the NVAX vaccine goes mainstream, the reversion to the mean potential is signficant. Earnings are expected to reach record levels by the end of 2023. Meanwhile, the stock is well off its high (above $250, now at ~$10).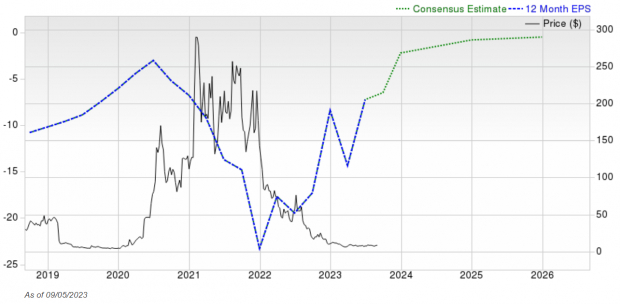 Image Source: Zacks Investment Research
Recipe for a Short Squeeze
At 48% short interest, Novavax is among the most heavily shorted stocks in the market. As of Wednesday, shares are back above the critical 200-day moving average for the first time since late 2021. A close above the 200-day moving average will likely cause more shorts to panic and cover – sending shares much higher.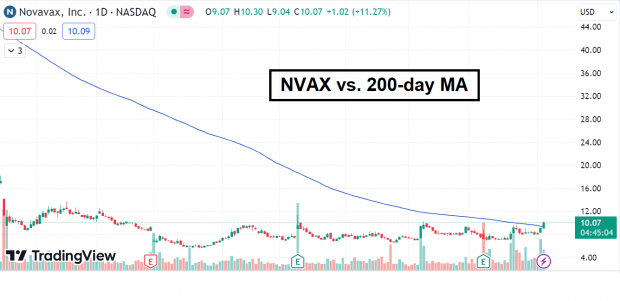 Image Source: TradingView
Want the latest recommendations from Zacks Investment Research? Today, you can download 7 Best Stocks for the Next 30 Days. Click to get this free report
Advanced Micro Devices, Inc. (AMD): Free Stock Analysis Report
Johnson & Johnson (JNJ): Free Stock Analysis Report
Pfizer Inc. (PFE): Free Stock Analysis Report
Moderna, Inc. (MRNA): Free Stock Analysis Report
Novavax, Inc. (NVAX): Free Stock Analysis Report
Invesco QQQ (QQQ): ETF Research Reports
To read this article on Zacks.com click here.