Bull Of The Day: SMART Global Holdings (SGH)
7:00 am ET November 10, 2021 (Zacks) Print
SMART Global Holdings SGH is the under-the-radar semiconductor stock you've been looking for, with its broadening portfolio of cutting-edge chips that are poised to take flight in this commencing technological renaissance.
SGH is roaring out of the shadows with an ambitious growth strategy that won't remain under the radar for much longer. Now is the time to add this hidden gem to your portfolio before the broader investing world catches wind of this discounted chip winner.
SMART Global has been around since the late 80s, but it wasn't until Mark Adams took the helm amid the pandemic last year, that this chip-maker's upside potential went through the roof. Adams is transforming this once complacent memory-focused legacy tech company into a motivated innovative leader.
Adams was the leader force behind SGH's quick strategic acquisition of Cree's niche LED chip business at the peak of pandemic fear for a steal at $300 million. Cree LED's synergies are already paying dividends as it drives margin expansion, improves the firm's capital & operational efficiency, and provides critical industry relationships.
SMART Global's new forward-thinking chief has already vastly improving its operational performance and is ramping up R&D spending to ensure that the enterprise remains ahead of the innovative curve.
Analysts are getting increasingly bullish on this under the radar comeback play as SGH flips the switch on accelerating profitable growth, knocking estimates out of the park by an expanding percentage over the past 3 quarters. Zacks Consensus EPS Estimates for SGH's have been soaring across all time horizons driving the stock into a Zacks Rank #1 (Strong Buy) and all 5 covering analysts agree on the unique value opportunity here.
The Business
SMART Global Holdings had been a reliable pure-play memory leader in the chip space for over 30 years before deciding to broaden its product portfolio, which appeared to be catalyzed by activist investors following SGH's 2017 IPO. The company has since executed 4 strategic acquisitions.
Penguin Computing was SGH's first vital acquisition ($85 million price tag) back in 2018, adding a broad portfolio of leading next-generation products, including high-performance computing (HPC), cloud computing, hyperscale data centers, and the development of artificial intelligence (AI). This segment has exploded since its acquisition as its AI-focused products experience budding demand.
In the summer of 2019, this resourceful chip giant acquired Artesyn Embedded Computing and Inforce Computing for $80 million and $12 million, respectively. Artesyn (which is now called SMART Embedded Computing) provides critical data center architecture used in "industries such as telecom, military and aerospace, medical, and diverse automation and industrial markets," according to its website.
SMART Wireless Computing (formerly known as Inforce Computing) exposes the enterprise to cutting-edge technologies like "medical imaging, collaboration/videoconferencing, wearable hands-free computing, and robotics/unmanned aerial vehicles," according to its investor relations page.
SMART's diverse set of growing end-market demand provides the company with an enormous total addressable market (TAM), significant upside potential, and not to mention an excellent hedge against the cyclical nature of the semiconductor market.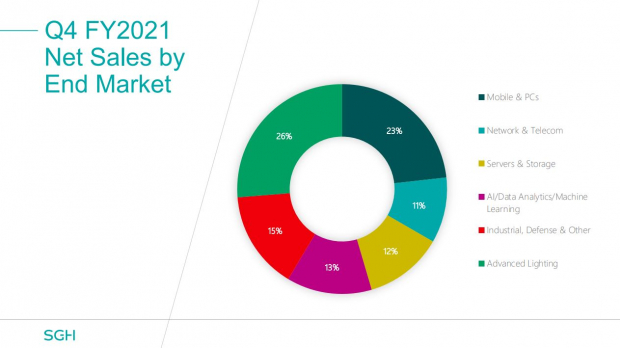 Image Source: SGH Investor Relations

SMART Global was able to more than double its profits in FY2021 (ending August 27th, 2021) on rapidly expanding margins and accelerating sales growth, which reached record levels this past quarter.

The 11x forward P/E that SGH is currently trading at is a remarkably discounted valuation multiple for a high-growth semi business that is expected to exhibit consistent 20%+ earnings growth in the years to come.

Semiconductors Skyrocket

The digitalizing impact of the global pandemic didn't just pull forward demand but propelled economic adaptation of advancing technology a decade ahead. Digital chips are at the core of all technology. This sector is on a prolific growth trajectory (characterized by Moore's Law) that will generate outsized returns for the best-positioned equities in the space.

The backbone of rapidly advancing digital technology, semiconductors, have been on an absolute tear since mid-October, with the VanEck Vectors Semiconductor ETF SMH, the go-to benchmark for the chip space, having rallied over 20% in less than a month. The most advanced computing chips have received the largest bid as investors look past short-term supply chain hiccups and towards the insatiable demand for next-generation tech.

Final Thoughts

With its fresh innovation-oriented operational outlay, Mark Adams at the helm (with a now proven track record of skilled management), and an industry-wide outlook of accelerating growth, the future SGH has never been brighter.

It's only a matter of time before this heavily discounted growth equity catches fire as market participants hunt for new innovation-focused value stocks as winners like NVIDIA NVDA and AMD AMD get their valuations stretched incredibly thin.


Want the latest recommendations from Zacks Investment Research? Today, you can download 7 Best Stocks for the Next 30 Days. Click to get this free report

Advanced Micro Devices, Inc. (AMD): Free Stock Analysis Report

NVIDIA Corporation (NVDA): Free Stock Analysis Report

VanEck Semiconductor ETF (SMH): ETF Research Reports

SMART Global Holdings, Inc. (SGH): Free Stock Analysis Report

To read this article on Zacks.com click here.

Zacks Investment Research