Cheetos(R) launches bold mac & cheese for daring Canadians who ketchup & mac
8:00 am ET July 12, 2023 (Globe Newswire) Print
The Cheetos brand is on a mission to end the ketchup on mac & cheese debate with NEW Cheetos(R) Mac 'n Cheese Cheesy Ketchup flavour pasta with sauce
GlobeNewswire
July 12, 2023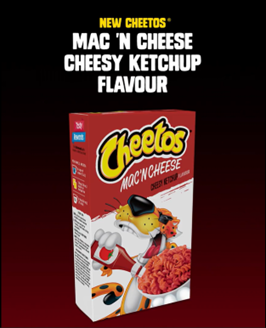 MISSISSAUGA, Ontario, July 12, 2023 (GLOBE NEWSWIRE) -- Canadians love mac & cheese and ketchup... but together? This is a long-standing debate. Or is it? In the lead-up to National Mac & Cheese Day this Friday, July 14, the Cheetos(R) brand is announcing its commitment to settle the score once and for all. Enter NEW Cheetos(R) Mac 'n Cheese Cheesy Ketchup flavour pasta with sauce. It's cheesy. It's ketchuppy. And, frankly, it slaps. Maybe you don't agree, but then maybe you don't have as good taste as some of your fellow Canadians... According to a recent survey by the Cheetos(R) brand, nearly a quarter of Canadians (23%) who eat mac & cheese add ketchup.*

And if its new Cheesy Ketchup flavour isn't enough, the Cheetos brand is getting MuchMusic's help to put an end to the age-old ketchup on mac discussion. As a go-to source for candid, humorous pop culture discussions, MuchMusic is no stranger to playful debate. Introducing "Cheetos(R) S(mac)k Talk", a social media show from two much-loved brands, Cheetos and MuchMusic, during which popular MuchMusic VJs--Verdah Ansari, Georgia Kolev, Teddy Tong, and BarDown special guest, Sam Gliserman--will duke it out, Team Ketchup vs. Team Just Cheese, to reveal the winner.
"Canadians are passionate about their mac & cheese, and so is the Cheetos brand," said Logan Chambers, Senior Director of Marketing, PepsiCo Foods Canada. "New Cheetos Mac 'n Cheese Cheesy Ketchup may not be for everyone, and that's okay--the Cheetos brand is mischievous and is not afraid to defend an unpopular opinion. We know ketchup and mac & cheese are a perfect pair!"
To watch the VJs go toe-to-toe in the Cheetos S(mac)k Talk series, visit @Muchofficial on Instagram, and @Much on TikTok, YouTube and Twitter--a preview is out today and the show will premiere this Friday, July 14!
And if you're feeling adventurous, try some Cheetos Mac 'n Cheese Cheesy Ketchup as you watch the segments. Who knows, you may be pleasantly surprised! But however you mac & cheese, you best be out with the old and in with the bold and cheesy deliciousness of the Cheetos Mac 'n Cheese line-up. You'll thank us later.
*A survey commissioned by the Cheetos brand (methodology below)
About Cheetos(R)
Cheetos is a favourite Canadian snack brand under the Frito Lay Canada portfolio. As one of PepsiCo Canada's flagship brands, wherever you find the Cheetos brand and Chester Cheetah, expect to end up with a little Cheetle on your fingertips. Learn more about the brand at the brand website, http://www.cheetos.ca and on Twitter http://www.twitter.com/cheetoscanada.
About PepsiCo Foods Canada
PepsiCo Foods Canada is comprised of the Frito Lay Canada and Quaker Canada businesses. The company employs over 6,000 Canadians with seven manufacturing plants and sales and distribution facilities from coast to coast. Frito Lay Canada is the country's largest snack food manufacturer and the company's brands include Lay's, Doritos, Tostitos, Ruffles, Smartfood and Cheetos. The Quaker brand portfolio includes a wide range of wholesome cereals, oatmeal, rice and corn snacks and snack bars, and features other prominent brands such as Quaker Life, Quaker Chewy, Quaker Harvest Crunch and Crispy Minis. For more information, please visit www.pepsico.ca.
About PepsiCo
PepsiCo products are enjoyed by consumers more than one billion times a day in more than 200 countries and territories around the world. PepsiCo generated more than $79 billion in net revenue in 2021, driven by a complementary beverage and convenient foods portfolio that includes Lay's, Doritos, Cheetos, Gatorade, Pepsi-Cola, Mountain Dew, Quaker, and SodaStream. PepsiCo's product portfolio includes a wide range of enjoyable foods and beverages, including many iconic brands that generate more than $1 billion each in estimated annual retail sales.
Guiding PepsiCo is our vision to Be the Global Leader in Beverages and Convenient Foods by Winning with PepsiCo Positive (pep+). pep+ is our strategic end-to-end transformation that puts sustainability and human capital at the center of how we will create value and growth by operating within planetary boundaries and inspiring positive change for the planet and people. For more information, visit www.pepsico.com.
About MuchMusic
Always on and always connected, the reinvigorated MuchMusic delivers content that resonates with young audiences, driven by a new team of VJs, creators, and Much Studios personalities. The new lineup of talented and diverse VJs are poised to produce and define MuchMusic for a new era across multiple digital, content, and social media platforms. MuchMusic comes from Bell Media and is available on Twitter, YouTube, Instagram, and TikTok, the exclusive home to all-new versions of the iconic VIDEO ON TRIAL, INTIMATE AND INTERACTIVE, and MUCHMUSIC SPOTLIGHT.
About the Survey
This Maru Public Opinion survey conducted on behalf of the Cheetos brand was undertaken by the sample and data collection experts at Maru/Blue. 1,527 randomly selected Canadian adults who are Maru Voice Canada online panelists were surveyed from February 22nd to February 23rd, 2023. The results of this study have been weighted by education, age, gender and region (and in Quebec, language) to match the population, according to Census data. This is to ensure the sample is representative of the entire adult population of Canada. For comparison purposes, a probability sample of this size has an estimated margin of error (which measures sampling variability) of +/- 3.0%, 19 times out of 20. Discrepancies in or between totals when compared to the data tables are due to rounding.
For further information: Niki Javdan, Citizen Relations niki.javdan@citizenrelations.com
A photo accompanying this announcement is available at https://www.globenewswire.com/NewsRoom/AttachmentNg/09f1d42e-b990-434b-99c1-cf1be5f61ef9

COMTEX_436737589/2010/2023-07-12T08:00:50